Predatory journals find most of their prey in developing countries, and in particular, among emerging economies where research output is rapidly growing. Bhushan Patwardhan is a biomedical researcher and Professor of Health Sciences at Savitribai Phule Pune University (SPPU) of India, and the founder and Editor-in-Chief of Journal of Ayurveda and Integrative Medicine, published by Elsevier. He is also the current Vice Chairman of the University Grants Commission (UGC) which plays a key part in India's anti-predatory journals efforts. In this interview, Professor Patwardhan tells us about India's battle against predatory journals.
Can you tell us about the UGC and its mission?
The University Grants Commission (UGC) is a statutory organization established by the Government of India for the coordination, determination, and maintenance of standards of teaching, examination, and research in university education. To deal with the problem of predatory journals, UGC created a white list of quality journals as a proactive step. However, due to some flaws during the list's creation and implementation, it was polluted with poor-quality journals and faced severe criticism. A large number of poor-quality journals were included in the UGC approved list, which opened the floodgates for desperate authors. Nevertheless, the UGC India was the only one of the ten most common funders who provided guidance about journal selection on its website .
As a researcher and professor, how did you get involved in the UGC?
As a member of COPE, I have been keeping track of predatory publishers. It was noticed in 2015 that a large number of faculty members from Indian universities were falling prey to predatory publishers, and hence an effort to prepare 'Guidelines for Research Publications' was undertaken at SPPU. In 2017, a Center for Publication Ethics was established. We created a group of like-minded academicians and developed a robust protocol to analyze the UGC list, and found that over 88% of journals recommended by universities for inclusion in the UGC list were of poor quality. The results were published on 25th March 2018 in Current Science and attracted attention from media, the academic community, and regulators. Our efforts to curate the UGC approved list of journals resulted in the removal of over 3,000 predatory journals from the original list of nearly 5,000 titles. As of now the UGC approved list of Journals stands canceled and is replaced with UGC-CARE Reference List of Quality Journals (UGC-CARE List).
At UGC you initiated the CARE Project as an effort to fight against predatory journals. What is the background of the initiative?
While Indian science has shown a marked growth in high-quality scientific publications, it has also been reported that the percentage of research articles published in predatory journals is high in India. Despite good intentions, the regulatory provisions of UGC seemed to have triggered a sudden spurt in predatory journals, giving way to 'publish or perish' culture. An ineffective monitoring of research quality coupled with desperation to publish for regulatory compliance have led to massive growth of predatory publications in India. To understand this rapid penetration of predators in the Indian academic community, it is necessary to understand the vastness, diversity and complexity of the Indian higher education system. India still follows an affiliating system of British origin, where, by and large, over 40,000 colleges deal with undergraduate instruction, while over 900 universities are entrusted with post-graduate education and research. As per All India Survey on Higher Education (AISHE) 2018-2019 data, about 1.285 million teachers are in the system to take care of 36.6 million students, of which 4.14 million are in Masters programs and 161,000 in doctoral programs. In 2018, about 34,400 students were awarded PhD degrees. The Government of India awards nearly 10,000 research fellowships every year. According to Scopus data, 147,537 articles were published by Indian authors in 2018. The majority of them are from over one hundred institutes of national importance and a large number of national laboratories managed by different research councils. A typical Indian university is meant for degree education, whereas national institutes and laboratories are mandated for research. Such bifurcation seems to be a major reason for poor research culture in most Indian universities. The situation is now rapidly changing for good through systematic efforts by the government to promote inter-institutional collaborations and transdisciplinary research, and by creating more awareness regarding academic integrity and publication ethics through initiatives like UGC-CARE.
Can you introduce the UGC-CARE Project?
I was invited to join the UGC Journal Steering Committee, and was appointed as Vice Chairman of UGC in September of 2018.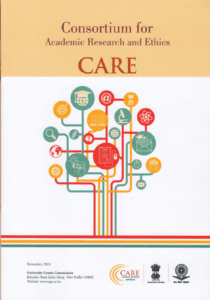 As the Vice Chairman of UGC I had the opportunity to take firmer steps to defeat the menace of predatory journals. We followed a principle of management used in quality assurance known as Corrective And Preventive Action (CAPA). We realized that the Indian academic community, including teaching faculty, scientists, and research scholars need to ensure that the journals and/or conferences they choose follow standard ethical policies. They also need dependable and credible guidance. Rather than having UGC undertake this task in isolation, we decided to form a consortium involving reputed research councils and national academies of science, engineering, medicine, social sciences, and humanities. Strong support to pursue this idea was received from the Ministry of Human Resource Development, Government of India, Chairman of UGC and the key academic leadership. There was a consensus that unethical practices leading to 'pay and publish trash' culture in India needs to be thwarted immediately. It was agreed that any attempt to compromise academic integrity should be challenged, questioned, shamed, and de-recognized at all levels. To bring these ideas to reality, in early 2019, UGC decided to set up a 'Consortium for Academic Research and Ethics' (CARE) to promote academic integrity and publication ethics, and to improve the quality of research in Indian universities. The UGC appointed an empowered committee under my chairmanship to steer the activities of CARE. We invited over 30 statutory councils and government bodies across disciplines as members of the consortium to identify, continuously monitor, and maintain a reference list of quality journals across disciplines. We identified reputable universities from four regions to facilitate submission and preliminary screening of journals for consideration of inclusion in the UGC-CARE list.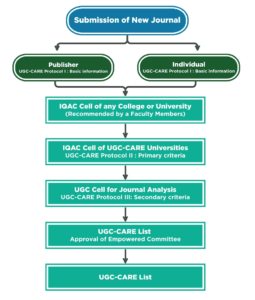 Proposals for any journal to be considered for inclusion in UGC-CARE list need to be submitted by editors, publishers or individuals following a process as illustrated in the flowchart. Faculty members and Internal Quality Assurance Cell (IQAC) from academic institutions need to prima facie ensure that the journal they are submitting is of good quality and follows ethical practices. All such proposals and journals submitted by CARE members are analyzed as per a validated protocol by the UGC Cell for Journal Analysis established at Center for Publication Ethics, SPPU.
In June of 2019, the first edition of UGC-CARE Reference List of Quality Journals was released accompanied by a Public Notice on Academic Integrity. In addition to the Reference List of Quality Journals, the CARE website provides useful resources including relevant publications, audio visual materials, videos, weblinks etc. The CARE website also provides FAQs, and information on feedback and grievance redressal mechanisms. The UGC has warned that the Indian academic community must avoid publication in predatory/dubious journals and participation in predatory conferences. They must not be associated as Editors/Advisors or in any other capacity with journals, publishers, or conferences involved in fraudulent, dubious, and deceptive practices. The Vice Chancellors, selection committees, research supervisors/guides, and other experts involved in academic evaluation and assessment should ensure that their decisions are primarily based on quality of research work and not merely on number of publications. Henceforth, any publications in predatory journals or presentations in predatory conferences shall not be considered for academic credit for selection, confirmation, promotion, performance appraisal, award of scholarship or academic degrees, or credits in any form. The CARE website and UGC-CARE List have created more awareness and helped the cause of promoting academic integrity and ethical publishing. We hope that these steps by the UGC should discourage authors from choosing predatory publishing as an easy way to earn academic benefits and should curtail the article flow to predators. The UGC-CARE project has been widely praised among academic fraternity in India and abroad. Reputed journals like Nature, The Journal of Alternative and Complementary Medicine, and Current Science have recognized this effort.
What are the main challenges the UGC-CARE Project is facing so far? Are there any plans to address these challenges?
As a preventative step, it is important to create more awareness to ensure that the academic fraternity (especially young researchers) stay away from predatory journals. This is very challenging and needs continuous efforts, especially with the vast expanse of the Indian higher education system. We organize seminars and conferences to discuss the importance of academic integrity. The UGC has also proposed a course on academic integrity as a mandatory requirement of pre-PhD course work. This will greatly help young scholars to know the possible adverse consequences of publishing in predatory journals and compromised academic integrity on their careers. Keeping the UGC-CARE list up to date is one of the main challenges.
We have observed that a few journals have changed their behavior after being listed by UGC-CARE. They start behaving in predatory manner and try to lure authors by aggressively advertising their listing in UGC-CARE. As a corrective step, we have created a feedback and grievance registering mechanism where anyone can report unethical practices of journals or publishers. We re-evaluate and scrutinize such journals. If they are found to be to be involved in any unethical practice, the journal is removed from UGC-CARE list. We update the UGC-CARE list every quarter so that new good journals can be added and poor-quality journals, if any, are removed. To decide the quality of journals in the humanities, arts and Indian languages remains a major challenge. We are trying to modify our existing protocol to suit the special requirements of such disciplines. Capturing citations of journals in Indian languages is also a problem. A team from the UGC Cell for Journal Analysis and the Center for Publication Ethics at SPPU are continuously working to address these challenges.
ORIGINALLY PUBLISHED AT https://scholarlykitchen.sspnet.org/2020/02/05/indias-fight-against-predatory-journals-an-interview-with-professor-bhushan-patwardhan/